Making Conventional Engine Driven Welders Obsolete -- A Disruptive Technology
ZENA's patented welding power generation and control technology is a sea change -- a true "disruptive technology" in an industry heretofore dominated by a few big firms who have maintained engine driven welder technology with little, or no, real innovative improvement for more than 50 years.
For example, in addition to being relatively inexpensive to manufacture (with NO need to sacrifice quality to make them affordable), ZENA's welders are incredibly compact when compared to previous technology. Yet they are able to produce far more welding power than old fashioned, engine driven welders more than 5 to 20 times their weight!
Better still, these tiny powerhouses produce remarkably little waste heat and ALL electronic components are MODULAR and COMPLETELY WATERPROOF -- sealed in a high tech plastic. And, since heat and moisture are the main enemy of all electronic products, less heat and/or moisture = longer service life (and fewer problems)!
Put another way, these tiny ZENA welders will work productively, and more reliably, for much, much longer than old technology engine driven welders.
This is not just rhetoric Check out our warranty -- 3 full years -- as long, or longer, than that provided for ANY welders made anywhere in the world. And when have your ever seen a welder sold with a 60 day satisfaction guarantee?
And, thanks to built-in troubleshooting features and modular components, there is no need to ever take a user serviceable ZENA welder in to a service facility -- and pay a huge fee just to see if there was anything wrong in the first place. Just follow a simple troubleshooting procedure, observe the action of a few lights, make a simple resistance or voltage reading and you're done.

Small size has many other benefits:
Easier installation,
lower manufacturing and shipping costs,
virtually no loss of vehicle payload capacity,
improved vehicle fuel efficiency (less air pollution, etc.)
Equally unique, ZENA's patented electronic controls add a host of features and capabilities that set the ZENA welders far apart from today's host of existing technology based engine driven welders.
See below, OR CLICK HERE FOR MORE INFORMATION.
| | | |
| --- | --- | --- |
| | | |
| | | |
| | Use a Spool Gun or Spool Feeder with your welder | |
| | | |
Last, but far from least, ZENA's new technology welders weld better, and are easier to use, than other engine driven welders:
We're not talking about subtle differences either -- you will notice
much better penetration for a given current setting;
better arc characteristics;
cleaner, x-ray quality joints;
easier out of position welding;
better out of position weld joints; and
unprecedented user control of the welding process.

Choose the 100% duty cycle welder that meets your needs
Our unique modular power generating technology and electronic controls let you mount multiple independently controlled 150A or 200A 100% duty cycle welders to a single engine --- or combine and synchronize multiple welding power generators to create a single giant power generator producing 800 amps (or more) of welding power.
And, with accessories, your welder can also function as: (more on accessories and models below)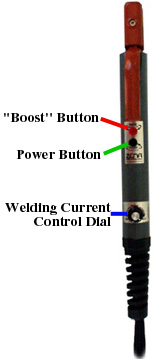 ALL welding controls
are built into the
electrode holder
CLICK ON IMAGE
Areas for More Info

Fingertip Welding Controls
That's not all! Our patented cutting-edge technology puts ALL welding controls at your fingertips -- they're built into the electrode holder! You can even adjust power while welding! Giving you total and instantaneous control of the welding process.
The ZENA welding system features unique (patents pending) welding power generating technology that allows you to make x-ray quality welds, and an electronic control system with a user interface unlike that of any other welder in the world. So good that it will spoil you!
Our controls make welding easier for the novice and yet offer the experienced user unparalleled control of the welding process (particularly when working out of position). These unique controls also incorporate significant safety features which are particularly important when operating in difficult environmental conditions.
However, all the technology in the world means nothing if it doesn't work. Our welders work -- really work! In conditions where conventional welders can't. There's simply nothing like them!
Professionals who have tried ZENA welders (and many were skeptical at first) unanimously report excellent welding characteristics and a very pleasant "feel" -- and both pros and amateurs agree that they are very, very easy to use.

Owners report (CLICK HERE for more owner feedback):
"the best stick welder I've ever used"
"it's better than our $6,000 shop unit"
"out performs the 2,000 lb. welder which it replaced"
"the best invention since the hydraulic brake"
"used it hard almost every day for over a year ... still can't believe that 24 lb. generator makes 150A of fire ... WOW!"
"I'm a PROFESSIONAL welder, working every day on critical structural joints, in all positions, and many thicknesses, with the top of the line equipment, i.e., Miller trailblazer diesel engine driven large frame tow-able welders (both leased and brand new), and I will swear under oath that the ZENA welder is not only more convenient, but the best running welder I have EVER used!"


No Other Engine Driven Welder Has a Longer Warranty
Ready for 100% duty-cycle commercial use and built to last, the ZENA mobile welding system comes with a three (3) year limited warranty which does not exclude commercial use!

This is the last welder that you will ever have to buy!
Our half-price flat-rate rebuilding policy further protects your investment. It's simple, we will completely rebuild (or replace) any welder or welder component that we manufacture (including the power generator), anytime, for one-half the cost of a new unit! Even if your pet elephant steps on it -- you're protected!

Reliability is Built In
Built to meet or exceed military and underground mining equipment specifications with sealed / waterproof electronic controls, no other welder better meets the unique maintenance requirements of marine, agricultural, and industrial users as well as others who need access to superior, high-power welding equipment that can be used for repair work anywhere.
Thanks to our cutting-edge technology, all ZENA welders, from our popular 150 amp model to our monster 800+ amp systems, are ultra-compact, producing more power, with less waste heat, for a given generator size, without sacrificing reliability, or performance, in any way.
Compact sizing also makes installation/conversion relatively easy.

If we don't have just what you need, custom systems can be configured to meet special needs and/or OEM requirements. (see what we did for Genie Industries)
150A, 100% duty Welding Power Generator,
Welder Controls, 20' Cables, & Control Module
Various stock welder models/configurations are available including self contained PTO drive welders, compressed air/pneumatic welders, and hydraulic drive welders.
The ZENA welding power generators can be used as high current alternators/high amp alternators. These high output alternators are used to supply supplemental or primary power for emergency vehicles and/or other special-duty vehicles which require more electrical power than can normally be generated by standard automotive electrical systems.
ZENA's welding power generators can also be ideal replacements for marine alternators -- allowing boat owners to charge batteries quickly and with minimum fuel use -- when not functioning as a built-in marine welder.
The ZENA system can be used in a non-vehicle configuration, driven by a small (11 HP or greater) engine, OR can be used to economically and easily repair or rebuild a "dead" conventional engine driven welder.
It is even possible to install more than one ZENA welder on a single engine, thereby allowing multiple operators to weld simultaneously -- without limiting the ability of each operator to independently control the welding process.
By combining higher power (300 amp to 600 amp) models with a compressed air source, proper controls, and a gouging torch, ultra rough-duty metal gouging and/or cutting can be supported.
A number of convenience and utility accessories are available which further enhance the utility of the ZENA mobile welding system.
For example:
Kits for automatically controlling drive engine speed.
Kits for easily attaching a power take off point to your vehicle's existing alternator -- making welder installation even easier.
Turnkey spool gun kits to support a wide range of mobile wire feed welding applications.
We also supply hard to get special purpose welding rods for cutting, or for welding metals such as stainless steel, aluminum, cast iron -- even an array of hard surfacing rods. (Call for info.)
---
ZENA and Backpak are trademarks owned by ZENA, Inc. for its welding systems and related products.
Protected by US Patent 6,512,199. Other US & Foreign Patents Pending
© Copyright 1998, 1999, 2000, 2001, 2002, 2003, 2004, 2005, 2009 by ZENA, Incorporated.
All rights reserved.
---
NOTE: Similar engine driven welders are made by Miller, Lincoln, Hobart, Century, Esab, HTP, Mitsubishi, Thermal Arc, and other companies. When comparing specifications, you will find that our 150A unit is comparable to, and will do the same job as, for example, a Miller 225 Bobcat welder, a Hobart 250A welder, a Century 200A welder, or a Lincoln Ranger 8 welder. Of course, 160A, 175A, 180A, 275A, or even 300A, or 400A welders would be also in the same category. MIG and TIG torches made by companies like Miller, Lincoln, HTP, Hobart, Tweco, Ready Welder, and Forney are also compatible with our welders -- when used with the proper adapter.
NOTE 2: Do not confuse our patented welding systems with other underhood welders such as those made by Premiere Power, Mobi-Weld, Stellarc, Ready Welder, and others -- our welders are built from the ground up to weld and feature specifications which conform perfectly to international standards for arc welders -- make a careful comparison.
CLICK HERE TO DO YOUR OWN COMPARISON
NOTE 3: In addition to service trucks (particularly popular are Ford Diesels, Chevrolet Diesels, and Dodge Diesels) and all types of 4x4's (including Jeep, International, and Toyota), this welder can also be installed on all types of heavy equipment, including backhoes, skid loaders, front end loaders, track loaders, forklifts, and tractors as well as all types of utility vehicle.