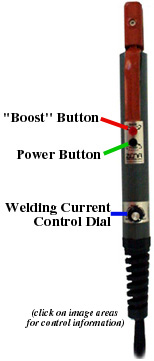 ALL welding controls are
built into the electrode holder
CLICK ON IMAGE
Do you have pictures available of your control mechanism? Is it a solid state unit? Are large capacitors used? Where is it installed?
The patented ZENA control system is truly unique -- completely self-contained, and uses no large capacitors in its design. Our controls are completely electronic (solid-state) and are integrated into the welding system components rather than appearing as bulky add-ons which require additional wiring and which can greatly complicate an installation.
Since the unit is designed for commercial use outdoors, all electronic control circuits are encapsulated to provide complete protection from the elements.
The most readily identifiable visible features of the ZENA welding system controls are the die cast aluminum case that is mounted (usually) to the body of the ZENA power generator (see below) and our combination electrode holder/control handle (right).
---

ZENA™ is a trademark owned by ZENA, Inc. for its welding systems and related products.
US & Foreign Patents Pending
© Copyright 1998,1999, 2000, 2001 by ZENA, Incorporated. All rights reserved.
[an error occurred while processing this directive]