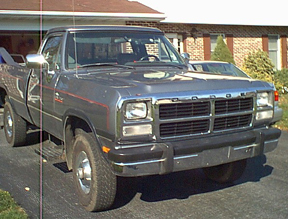 Dodge Truck with
Cummins Diesel engine equipped
with a ZENA mobile welding system
The pictures on this page detail key aspects of a ZENA welder installation into a Dodge truck equipped with a Cummins Diesel Engine.
The welding system in this truck is used frequently by the owner. The ZENA welder installed in this truck, is his primary welding equipment.
In this installation, the ZENA system was installed secondary to the truck's existing alternator and electrical system using a piggyback type power generator mounting scheme.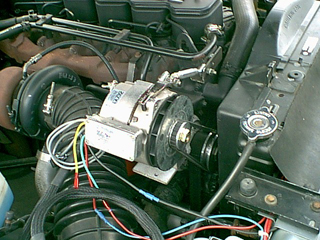 The truck was equipped with a standard serpentine belt accessory drive system. In this installation, the WPG is driven by a V-belt connected to a Model AAPK Universal Add-A-Pulley Kit which is attached to the vehicle's stock alternator. This eliminates the need to modify the stock belt drive system and, because the Add-A-Pulley is larger in diameter than the stock alternator's serpentine pulley, provides a bit of overdrive to the power generator, reducing engine welding speed by approximately 15%.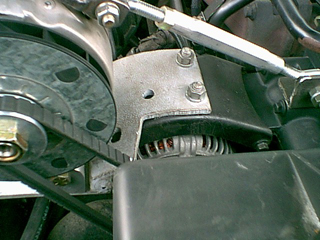 The owner used a Model A300A Universal Mounting Bracket and a TBUCK Belt Tension Bracket to simplify his fabrication effort.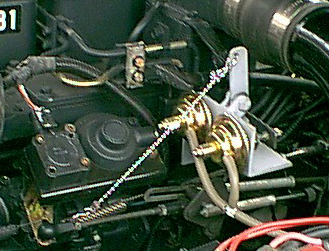 This Cummins engine's fuel injection system linkage required a bit more actuator travel than was possible with a single vacuum actuator.
Therefore, ZENA's model ASC2 Automatic Speed Control (which comes with two vacuum actuator assemblies) was used in conjunction with a special bracket assembly which was built on sit. Instructions for building this sort of bracket are included in the welder installation manual.












A model BJ150.4 quick disconnect system was also installed by this owner.






Time to complete this installation -- from scratch -- approximately 12 hours.
---
ZENA™ is a trademark owned by ZENA, Inc. for its welding systems and related products.
US & Foreign Patents Pending
© Copyright 2002 by ZENA, Incorporated. All rights reserved.
[an error occurred while processing this directive]