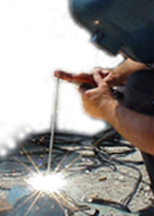 Do you have an engine driven welder in need of repair or overhaul?
Have you been told that your engine driven welder can't be repaired?
OR, that repairing or rebuilding your welder will be too expensive?
OR, that repair parts for your welder are no longer available?
The ZENA™ mobile welding system may be your answer!
Most engine driven welders fail because their electrical systems have failed -- not because the engine is worn out. Using conventional repair methods, it can often cost almost as much to repair an older welder than to buy a new welder -- and with such repairs, any warranty that you may receive on the repaired electrical components is usually very short in duration.
You can have a BETTER THAN NEW welder for a fraction of the cost of rebuilding!
ZENA makes self-contained, ultra-compact, modular, retrofittable engine-driven, constant current, high-frequency DC welding power generators, and solid state electronic controls which can be easily attached to your existing welder's engine -- replacing all of your welder's existing, worn out power generating and control components.
All retrofit systems are 100% duty cycle, and configurations are available to produce 150A, 200A, 300A, 400A, 450A, 600A, or 800A welding currents.
Featuring a unique electronic welding control system (patents pending), the ZENA system makes welding easier to use for the novice and offer the professional unparalleled control of the welding process. Our controls (which are built into the electrode holder) also provide significant safety features which are particularly important when operating in difficult environmental conditions.

You can even configure your new welder to operate in ways than were never possible before!
For example, you can install multiple, stand alone ZENA welders on a single engine -- allowing multiple operators to weld simultaneously -- without limiting the ability of each operator to independently control the welding process. Imagine how fast, economical, and efficient pipeline repairs or construction work can be with multiple weldors working, at the same time, from a single engine unit.
| | | |
| --- | --- | --- |
| | | |
| Go from this | to | This! |
Rebuilding your old welder is simple:
Remove old generator components.
Disconnect or remove old electronic controls.
Attach a suitable drive pulley (or pulleys) to the engine's drive shaft (a few minutes at a machine shop may be needed to adapt a drive pulley bushing to fit an odd size engine drive shaft).
Mount the ZENA power generator (or generators) using simple site fabricated brackets.
Connect two wires to you battery (and interconnect multiple power generators if used).
Attach a suitable length V-belt (or V-Belts).
Connect welding and control cables to the power generator, and you're done!
Put welder back in service and start welding.
As one can see, the necessary work is well within the range of a skilled do-it-yourselfer or an individual working in a remote area. When complete, you have a brand new, state of the art engine driven welder with a three year factory warranty -- for much, much, much less than you might imagine!
CLICK HERE to see a photo and description of a typical installation.
No Other Engine Driven Welder Has a Longer Warranty
Ready for 100% duty-cycle commercial use and built to last, the ZENA mobile welding system comes with a three (3) year limited warranty which does not exclude commercial use!
Built to meet or exceed military and underground mining equipment specifications, no other welder better meets the unique maintenance requirements of individuals who need superior, high-power welding equipment that can be used for construction or repair work anywhere -- operating ultra-reliably and ultra-safely in remote locations.

This is the last welder that you will ever have to buy!
Our half-price flat-rate rebuilding policy further protects your investment. It's simple, we will completely rebuild (or replace) any welder or welder component that we manufacture (including the power generator), anytime, for one-half the cost of a new unit! Even if your pet elephant steps on it -- you're protected!
Buy risk free using our Secure Online Store.
ZENA™ is a trademark owned by ZENA, Inc. for its welding systems and related products.
US & Foreign Patents Pending
© Copyright 2000 by ZENA, Incorporated. All rights reserved.
[an error occurred while processing this directive]