| | | |
| --- | --- | --- |
| e-Mail: contact@zena.net | | Welding System Installation Accessories/Bracketing Components |
| | | |
We offer a number of accessories for the ZENA™ mobile welding system -- including a number of special purpose welding rods which make it easy to cut or gouge metal in the field.
Some of the more popular accessories are depicted here. CLICK HERE to see more.
NOTE: At any particular time, ZENA's products may vary in details of design and construction from the photos shown here.
| | | |
| --- | --- | --- |
| | | |
| A300 Universal Weldable 2" Pivot Mounting Bracket | | A300A Universal Adjustable Aluminum 2" Pivot Mounting Bracket |
A215 Alternator support / belt tensioning bracket

A220 Heavy Duty Alternator Support /
Belt Tensioning Bracket
UB2
Universal
Piggyback
Bracket Kit

A unique bracket kit designed to make 150A welding power generator installations as close to "bolt-in" as possible

Typical UB2 Assembly Detail

View from
Engine Side

View from
"Below"

Assembly View
from "Rear"
---

AIRT101 Spring Loaded Belt Tensioner
Fully compatible with the UB2 bracketing kit as well as all other ZENA bracketing components, the AIRT101 is a fully adjustable bi-directional spring loaded belt tensioning device designed to be used with an idler pulley in a V-belt drive system to maintain a constant belt tension (10-30 lb.).
The use of such a device can GREATLY improve belt performance and belt life.
---
This is our most popular accessory for vehicle installations.

While not necessary for proper equipment operation, an automatic engine speed control will save fuel and reduce engine noise when welding for extended periods. The model ASC1 is controlled electronically by the ZENA system. It automatically increases your engine speed to your preset welding speed when you activate welder power then reduces your vehicle engine speed to your normal idle speed whenever you are not actually welding.

NOTE: This accessory can also be used in a "stand-alone" configuration as a low cost high idle control for emergency vehicles and service vehicles of all types which have a vehicle vacuum source available.

The ASC1 uses engine vacuum for its actuator operation. However, for engines / applications in which a suitable vacuum source is not available order our model ASC3. This model uses an electrically activated actuator.

Automatic Engine Speed Control
---
Quick Disconnect Kits for your welding cables
BJ150.4 Quick Disconnect

WSC.C Custom length cable/control sets

External Voltage Regulators

Welding Lead Extension Accessories Increase Convenience
(various models/types available -- including custom
and segmented/variable length welding cable systems)

Various models/types are available These devices allow the use of the ZENA power generator as a high current alternator or quick charger)
---

Our unique Add-A-Pulley adapter kit has been designed to make installation of ZENA power generators very easy in vehicles which have serpentine drive belt systems. It can be installed easily (attaching to the existing alternator pulley) and provides, as a secondary benefit, the ability to use a reduced engine speed when welding.

A number of models are available, and most popular 4x4, truck, and auto makes are supported. When ordering make sure you advise you vehicle's make, model, engine size, and alternator type (if known).

The diagram shown below is an excerpt from the Add-A-Pulley installation instructions.
(CLICK HERE to go to Add-A-Pulley power take off information page)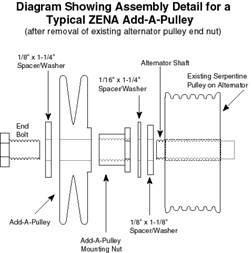 ---
---
ZENA™ is a trademark owned by ZENA, Inc. for its welding systems and related products.

US & Foreign Patents Pending
© Copyright 1998-2004 by ZENA, Incorporated. All rights reserved.
[an error occurred while processing this directive]